Pictures - as promised
As promised, I'm posting pictures today. I got the JN "
Love & Roses
" in it's final resting place - another totally finished! Well, maybe not. The picture shows gold braid around the top edge of the box, and I haven't decided it I want to add it or not. I might take it with me on my next trip to the fabric store and try some out to see if it's the look I want.
I also put a few more stitches in L&L's "Celtic Spring" taking me up to 18 hours now. I had to do a little frogging though. I was off one stitch and just decided to pull the whole area out and do it again. I love doing these designs. It always amazes me that those blobs of color actually look like fabric from a distance. I certainly wish I had the talent to be able to design like that.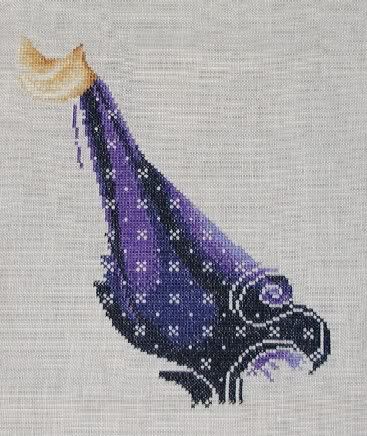 And for my last photo, my owl dishcloth. If you'd like to knit your own, the free pattern can be found at
Dishcloth Boutique
: