Mrs. Productivity Came to Visit
With the kids gone, I have gotten quite a bit done here, and that even counted time for "just ME" stuff as well. It's been a quiet and relaxing time. Something that I've needed to get centered again. I've cleaned things I have put off, I've sorted those things that I didn't want to get near, and I've even dusted of the sewing machine and fixed things.
GASP!
Best of all, was my time stitching. I pulled out a Mill Hill pin kit that I've wanted to do for a couple of years now. I can now say that it's not only finished, but it's also put together and ready to wear!
He's called "
Mr Twinkle Flake
". I was very pleased with how he turned out. This is my first pin that I've ever done, and I'm so happy with the results.
My other bit of productivity was getting the umph to dig out all the fo's that I have in my box, and actually finishing a couple to be able to display. I sewed up Lorri Birmingham's "
Gardener Needleroll
" and the "
February Fob
" that was stitched a couple of years ago.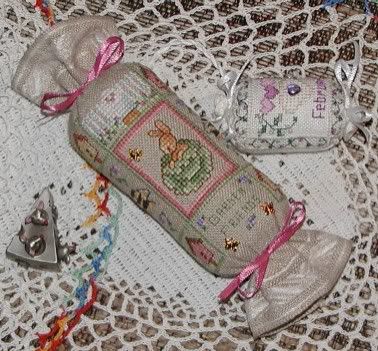 I still have a few tuck pillows I want to make, but for the life of me, I can't remember where I put the fabric to make them. Where it normally would be, it isn't. Guess I put it somewhere where I wouldn't lose it! LOL
DH has gone hunting today. He left early and will go to my brothers and get DS to go along with him. I don't know if he'll be bringing the kids home tonight or if we will be getting them tomorrow, since we'll be going to my brother's tomorrow. We are gathering for "Hoagie making night". We will be taking all the "fixings" up to make hoagies. It's a nice treat for everyone - we all make the kind of hoagie we want, and then we play games afterward - which usually turns out to be "Uno" :-) I'm looking foward to that - cuz I'm finally gonna whoop them and win (like that will ever happen!! LOL)