End Of July Finishes
The week has gone by so fast, and with it, a few end of the month finishes....
First, up is
Rodney the Rooster
Dishcloth. It was knitted on size 8 needles using Peaches & Creme in an Ecru color.
This next dishcloth is called
Dolly the Dolphin
and was the July beginning of the month pattern for
Monthly Dishcloths group
. At the beginning and middle of each month, a new dishcloth pattern is sent to the members. Every day, you will receive a few rows of the pattern until the cloth is finished. It's really quite a fun way to knit up some new cloths! My cloth was knit on size 8 needles using Lily Sugar & Creme in Delft Blue.
My next finish is a pretty crocheted dishcloth using size #10 thread and a size #1 steel crochet hook. I found this pattern in "Old-Time Crochet" magazine in the Spring 1988 issue. It's a nice large cloth that turned out very nicely. My daughter has asked if she could have it to put in her hope chest. Guess that means I'll be making another one for myself! :)
For sock finishes, I have another one! That's two in fingering weight in one month!! That's darned good for me!!! These are my DS's Opal socks. The are knitted using size 3.0mm dpn's and Opal Magic in 1036 colorway. DS loves these socks!! I was really surprised to have them finished so quickly with his size 12 feet!! I was also amazed that I had enough Opal and even left overs enough to make the cuffs another inch (or maybe even more!!) longer.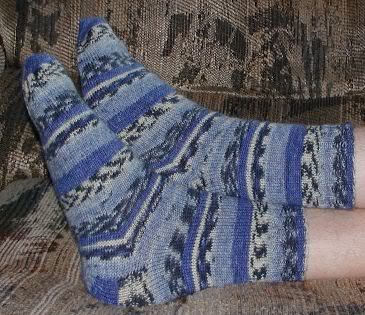 My last picture for today is the first of my DD's socks. She wanted a short footie, so I looked and found a cute pattern by LynnH called
Mom's Fast Florida Footies
. I have the first one finished, and am ready to cast on the second. It turned out nicely, but I must say I got tired of purling the sole. I don't care much for purling in the round. I probably put more stress on my hands that I should have, but I so wanted to get rid of the ladders I got on the sole. I don't have any trouble with ladders when I knit, just when I purl. :( I adore her no purl heels - they are really cool!!