Sock Finish + XS & Knitting WIP's Updates
YIPEE!! DD's socks are completed and are now being washed. She loves them, but I have a few issues.... First, the next time I do these, I'll go down one needle size. Even though I'm right on with 8 sts to the inch, these came out a little loose. I used the Narrow Heel from "Custom Fit Socks" by the Fiber Gypsy because DD has a narrow foot, but I'm not happy with how it looks on. I have a concern that the way the heel sits, she will end up with discomfort on the bottom of her heel. (Keeping my fingers crossed). For the gusset, I did a Dec 1 row, K 1 row and that seems to be OK.
DD is KNITTING!!!
My DD was keeping me company the other day, while I was cleaning my room. I came across a skein of a rainbow type of acrylic that I had purchased a while ago to make a scarf for her out of. Well, I didn't get to it (was going to do another diagonal scarf) when she spied it. She begged to make a scarf out of it, and I gave it to her with a pair of size 11 needles thinking that it would turn out like every other scarf she had started. This girl has surprised me totally!!! She has her scarf about half way done and has said that she is really enjoying knitting it!! She has asked that we go to the LYS so she can look at all the new yarns and get ideas to make something else. :-) Need I tell you how thrilled I am?!! LOL
Cross Stitch & Knitting WIP's
I'm on the heel flap now on DS's sock.
I also pulled out my sampler scarf (a freebie from Jackie ES). I'm ready to start pattern #6. I love learning new stitches so this scarf is fun, and easy to pick up after being put away for awhile, because of the different squares.
And now... on the cross stitch front......
My poor XS has been somewhat neglected lately. No much, but some. I love to knit, and enjoy making things that everyone likes to wear, but I still need to XS - it's my first passionate love with knitting coming a very close second. It always seems so hard for me to decide what to stitch or knit next - there's just so much I want to do. Knitting socks is much less expensive than XS - especially when it comes to the cost of finishing, but I don't think anything compares to the beauty of some of the finished XS pieces I've seen. With that all said, I usually have something on my knitting needles at all times and more than one XS piece.
With all that said, here are my update reports for this week:
First is Houses of Hawk Run Hollow... This picture was taken a few days ago, and has been worked on a little bit since. It's a fun stitch that I really enjoy doing, and if I didn't have so many socks to make for winter this year, I'd be stitching it more!! This is house #7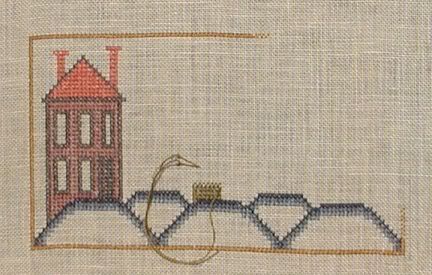 I've also started Calico Crossroads Kats By Kelly January Calendar Cat. I have the cat almost finished - need to finish stitching a foot and tail. I'm toying with changing the 2006 on the hat so that it works for displaying for every year, but haven't come up with anything yet that would logically work with the size of the hat.