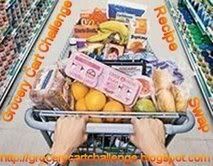 Grocery Cart Challenge
In our home, we don't go by weekly and monthly menus, as I see others do. Instead, we go by what items are on sale at the grocery store, and match those items up with what we have at home in the freezer or on the pantry shelves.
This week, Polska Kielbasa was on sale B1G1F (buy one get one free). I won't buy it when it's at regular price of $3.99/lb., but at $2/lb., I had a couple on the grocery list for my husband to pick up. Yes, you did read that correctly. My husband does the grocery shopping most of the time, because the store is practically on his way home from work. We save quite alot in gas this way.
I'm using one of the Kielbasas tonight in a yummy soup that is quite inexpensive to make - especially if you get all the veggies out of your garden! I'll post tonight's dinner and recipes, so you can see that although we live cheaply, we don't skimp on our meals. We'll be having Sausage/Vegetable Soup, homemade bread, and Amish Cake for dessert. The Amish cake uses buttermilk, and now that we have
homemade buttermilk
**, it's less expensive to make! No one will be leaving the table hungry :)
Sausage/Vegetable Soup
(from the Thrifty Cook p 186)
1 lb. Polish sausage, sliced
4 c. shredded cabbage
3 c. cubed peeled potatoes
2 c. chopped celery and leaves
2 c. sliced peeled carrots
1 c. chopped onion
2 qts. water
8 oz. can tomato sauce
2 tbsp. vinegar
1 tbsp. salt
1/2 tsp. dried thyme leaves, crushed
1/2 tsp. pepper
4 beef bullion cubes
Combine all the ingredients in a 6 quart or larger kettle. Bring to a boil; reduce heat, cover and simmer 35 to 45 minutes, until vegetables are tender. Makes 4 quarts. Since this recipe makes quite a bit, you can always freeze the leftovers (if there are any!!) for a later time or for someone's lunch.
Homemade Bread
1 1/4 c. warm water
2 tbsp. honey
2 tbsp. butter
2 tsp. salt
2 tbsp. powdered milk
1 c. quick oats
2 1/3 to 2 1/2 c. flour
2 1/2 tps. yeast
Put ingredients in breadmaker in order of manufacturer's recomendation. Set for 1 1/2 pound loaf on medium crust.
Amish Cake
(from Amish Cooking cookbook p. 103)
1/2 c. butter
2 c. brown sugar
2 c. buttermilk
2 tsp. baking soda
3 c. all-purpose flour
1 tsp. vanilla
Cream the butter and brown sugar. Add the buttermilk and soda, then the flour and vanilla. Bake the batter in a greased and floured 9" x 13" x 2" baking pan at 375 degrees F. for 35 minutes or until toothpick poked in center comes out clean. Spread the following topping over the cake after it is done (and still hot). Return it to the oven and broil until bubbly or for one minute.
Topping
:
6 tbsp. soft butter
4 tbsp. milk
1 c brown sugar
1/2 c nuts (we use pecans)
The cake is an extravagance - especially since there is so much sugar in it, but how can I refuse when my husband asked so nicely? :)
**Note:
For the homemade buttermilk recipe, please see Tuesday, September 23's posting to make your own. Not only is it about half the price of the store, but it really does taste better. Now that it costs the same as milk, I'll now be baking more with buttermilk.