Happy New Year!
I hope that everyone had a lovely beginning to this new year. It is a time of reflection and new hope for our family. Everyone has gone over their goals from last year, and are amazed at how much they have accomplished! I have the kids write down what they would like to do for the new year, and then on New Year's Day we compare the list with what they succeeding in doing. It's amazing how satisfied they are with those accomplishments. I don't get the negative, "I didn't get it all done" but "Wow! I did more than I thought I would when I wrote down this list." I love hearing that! :-)
I had a few stitching accomplishments and was pleased with what I got done. I was challenged by DH that I couldn't go a year w/o purchasing patterns - and I did it! There were a couple that I did buy, but because they were gifts to do for others, he allowed them and said they didn't count. My automatic mailings didn't count either - which was my PV, and JCS Ornie issue. With that being said, here's what my stitching accomplishments were:
I finished 51 projects. Now, mind you, most weren't very large - so that's not a huge amount really. Out of those 51, 16 came off my WIP/UFO box, 2 were from patterns purchased in '04 for gifts, and 23 were from freebies. The rest came from my stash (which totaled 10). Of those 51, I finished off/framed 21 of them, and finished/framed 5 that were stitched more than a year ago and in my pile of things to be framed, sewn, etc.
This year will be a year for finishing things. So many need framed or made into pillows, etc. I purchased Judy O's book on finishing ornaments, and hope it's as good as what others say. I have framed ornies before, like on x-mas eve, but to me they look kinda cheap, next to the ornaments that are in the JCS mag. I'm hoping that I can get good results like that. Speaking of xmas eve finishes, here's a picture of those: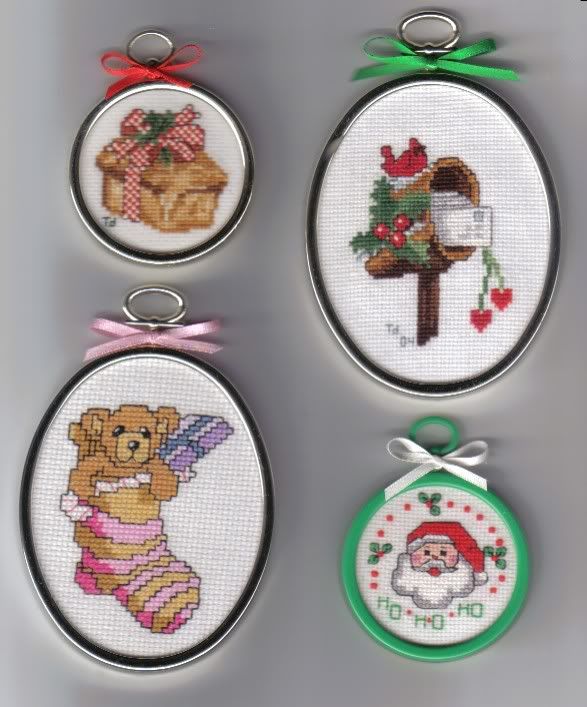 I guess they're ok, but they just don't say "WOW!" when I look at them. KWIM?
One other accomplishment is, my PV collection is now completed. I ordered the last leaflet and it's on it's way!!! It still amazes me that I have the whole collection now. YIPEE!
On another note, my model should be here soon, then there won't be any great pic postings for a couple of months until it's done. I'm really looking forward to this new model. The designer I'm dealing with is such a sweetheart and seems like someone I'm really going to enjoy working with.
I love modelstitching, but it does have a dark side to it. First, you can really overextend yourself, and set yourself up for burnout. The other thing is the integrity of those you are working for. I've worked for 3 places that I ended up not getting what was agreed upon.
I worked for a very popular needlework shop that so many talk about, and the owner kept sending me more and more to do. I was just constantly stitching for her, and sending them back much earlier than she set the due date for. She loved it, and promised to pay in stash. She did at first, and then I started getting the "it's late going out" and "I sent it on such and such a date, hmmmm - must have got lost, will send another one out". Well that same one kept getting lost and after 4 times of that story, I got wise, and packed all her stuff back up - some finished some not, and off they went with a "not so nice" letter. Nothing was ever acknowledged and I never received compensation for more than $400 worth of work.
I worked for a very large and well know company that paid pretty well. They sent me an ornie to stitch and wanted it yesterday, so I called them (long distance - of course), and asked how they wanted it. Over night, so the day after I got it, I sent it overnight to them - and got my check back with just the amount for the ornament, and no reimbursement for postage. I called to find out why, and they said they don't give reimbursements for postage - although it was agreed upon during the phone call when it was to be send overnight. They said that modelstitchers should eat that cost and take it off their taxes. That ornie cost me over $15 to stitch for them after the amount they sent me for the job!!!
The last one, I really did on my own. I worked for a LNS, and was so thrilled to be able to have my pieces out where I could see them displayed. I was to get store credit for the job, and her prices were the going rates - couldn't ask for a better job because the owner was a sweetheart. I was banking my store credit for a very nice item - an ott light and floor stand. I had tried a few times to cash in, and the workers there said they didn't know how to handle it, so I should wait for the owner to show. After a time of not seeing the owner, and never getting an answer when she was coming in, I got a letter in the mail stating the store was closing, because the owner had cancer. I didn't go to the big sale to cash my credit in, because I just couldn't. It broke my heart to hear such sad news. So I just let it go.
However, with that all being said, I've worked for some very wonderful designers! Some became good friends, some kept very professional, but still a joy to work for. Modelstitching is not a job to get rich off of, but at the same time, can be so very fun and satisfying.
Again, wishing everyone the best new year yet! May it be filled with joy and many wonderful blessings.