Breadcloth finish
First - thank you all for your comments about the dragon. I am just going to have to stitch another for myself, someday. I love Jennifer's dragons - they are just so adorable! I want to add a few more to my collection, and "Dragon Garden" is probably going to be the next one.
I'm saddened to see that others have had bad deals as well. Such a shame, because the exchanges and swaps can be so much fun! I'm still involved in them (they are addictive) no matter how many times I say that it's not worth it and this is the last one. LOL.
Yipee!!! The breadcloth is done - and it is as adorable as I hoped it would be. (IMHO)
Now all it needs is to be packed up and mailed on Monday. I hope Misty likes it.
I'm in the process of making "
Bluebird of Happiness
" from Jeanette Crews Designs for DH. It's been really difficult finding the time to work on it, as most of my stitching time is at night, so the process has been slower going than I would like. After finishing up my the breadcloth, I pulled out a Pam Kellogg kit "
Winterlude
" and started on that until he went to bed, then pulled out
Bluebird
. Here's my progress as of this morning: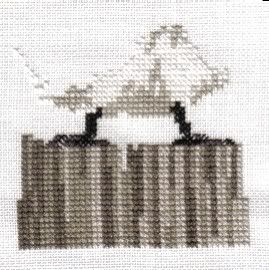 He's being stitched on 28 ct. Bridal White Alma using the recommended DMC threads. I'm now up to putting color on the bird's breast.
Yesterday, DD and I went Christmas shopping. Sure did make that old credit card smoke, but we had loads of fun doing it! This is the first year since we got married (14 years ago) that I went shopping and bought what I wanted without tag shopping. I bought things I know the recipient would like. It sure put the fun back into shopping again. And for the amount of people that we purchased for, we really didn't spend a whole lot on each.
I then went to the LNS that is near the stores I went to. I never get up in that area except during the holidays, and had to make a point of stopping in to finger the threads and fabrics. Oh, what a treat!! I took a list of Mill Hill beads that I still needed for Mirabilia's "
Blossom Harvest
" with me. I love that design, but when I purchased the pattern, I didn't realize just how many beads were on it. There's over $40 worth, so I've been getting a pack at a time. I was talking to one of the internet shop owners, and she told me that Mill Hill was purchased by Wichelt, and the orders that normally take days to come in, are now weeks behind. When I tried getting the beads that I wanted for Blossom Harvest, she said they didn't have them, but could order them for me, but at this time, there were no guarrentees when they would be in. So at the LNS, I got all but 2 packs of beads for BH, and that was only because they were out of those. With Mill Hill being sold, I want to make sure I have those beads to do this design. I know how things change and get discontinued when companies change hands.
While I was at the LNS, they had a clearance table. I wasn't going to look - honest, but.... And boy am I glad I did!! I let all my XS magazine subscriptions go a couple years back due to cash flow (or should I say lack of) and there on the table were back issues of
Stitcher's World, Sampler & Antique Needlework Quarterly, Just Cross Stitch,
and
Stoney Creek Cross Stitch
all at 50 cents each!! I came home with 23 magazines for less than the cost of a year of the cheapest xs mag on the market!! All the magazines were new and in perfect condition. DH laughed when he saw them all remarking that I really blew my pattern diet. Yah - well, I'm going back on again - for another year. I've got a feeling of being overwhelmed with new projects I want to do. I will be kept busy for quite a while :-)
And speaking of more stash... I got my shipment from Needlecraft Corner today. My first Jeanette Douglas Design came! I can't wait to start that one. I hope it looks as good as it did with the original threads, though. I'm questioning the suggested substitutions. I'll have to look at things closer, though. In my package was also the threads I needed to do the Just Nan "
Seasonal Gems I & II
".
Last but not least, I finally got my progress update of TW's "Under the Evergreen". I'm in the SAL, on the TWBB, and our day was Nov. 27th to work on it. I didn't get much done, but a few stitches in. Now I'm a few stitches closer to being done.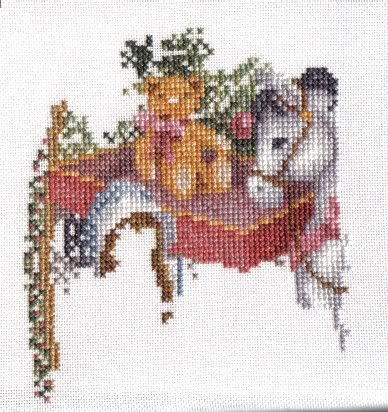 Hmmmmm - maybe I should take that attitude with my oldest ufo. I used to have a UFO day, so maybe I should go back to that again. I would put in at least 20 stitches every week. The 20 would turn into 50, or 100... and my ufo's would get finished in no time. Sounds like a plan :-)