Sunday.... A day of rest and play.


You are Mohair.
You are a warm and fuzzy type who works well with
others, doing your share without being too
weighty. You can be stubborn and absolutely
refuse to change your position once it is set,
but that's okay since you are good at covering
up your mistakes.




What kind of yarn are you?


brought to you by Quizilla
Our trip to the eye doctors succeeded in all three of us with vision changes, and new prescriptions. DS picked out his first pair of glasses which was no easy feat! We spent a looooong time going through glasses. He seemed to enjoy picking them out, and is happy with his choice. DH has to stay with contacts because his vision is so bad, and I decided to go back to them after a long time without them. It has been over 16 years since I had a pair, and had to stop wearing them because of all the computer paper dust where I worked. Well, I haven't had success so far, and have a feeling that when I go back for my check, it's going to be a no go. I really liked the price of the contacts -vs- the glasses. They run less than half the price. Ah well, we shall see what happens.
I "borrowed" the HP book from DD after she fell asleep the other night and got about half way through chapter 1. I couldn't read it because my eye hurt from wearing those contacts. That's really weird - wonder if there was something on the one I missed and scratched my eye. Still bugging me today. Guess no reading again.
We had a great night Friday night shopping. I picked up some yarn at Walmart to add to my Rainbow Afghan. It is obnoxiously bright and certainly something I'd never normally do, but wanted to get rid of some yarn I had in my stash, so figured I'd do it and if I didn't like it, I'd donate it. As you can see, I've just started the blue...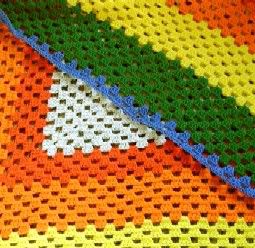 We stopped at JoAnn's Fabric so that I could get some size 5 DMC perle cotton to make the
Harry Potter Bookscarf
that I found on
Laura's
blog. However, when I got home, there were only 2 of the 3 skeins in the bag. Yup - there were 3 on the receipt, but only 2 in the bag. Of course, when I called, they didn't find any that had dropped or anything, so I ended up losing $1.36 and still can't knit the bookmark until I go back to get the other skein - an 80 mile round trip. By that time, DD will have finished the book.
We were out a lot longer than planned, so we went to Ruby Tuesday's for a fantastic meal. DH and DS had a Colossal burger and DD & I had a Bacon Cheddar burger. YUMMM! The Colossal burgers are HUGE with a pound of meat on them, but DS and DH put them down with no problem. DD & I had a hard time finishing ours.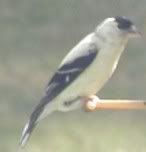 We've had an interesting visitor to our birdfeeder. He's an almost white goldfinch. I have tried to photograph him many times, but for some reason, our camera doesn't want to focus on him, but the scenery behind him. I hate autofocus - but keep forgetting to take the time to read the book on how to override it until I need it again. One of these days.... :-) Anyhow, here's a pic of him, but sadly no other goldfinches to compare his color to. The peg he's on is a real faded yellow - the feeder has been in the sun for a couple of years, so that's the only point of reference I have to his color.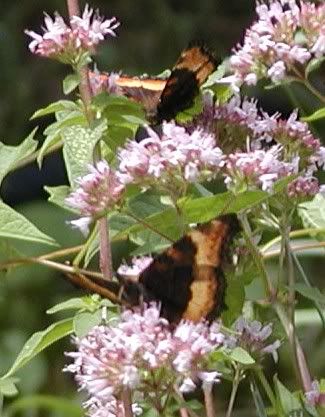 Ohhhh! And the butterflies!! They have been all over the milkweed and some of the herbs I've planted! These dark brown and orange beauties are regulars now. It's nothing to see 15-20 in one spot. They are one of a bunch of different species that are visiting this year. I've never seen so many kinds here, and will have to consider purchasing a book on butterflies to identify them.