The Demand For Socks Keeps Coming!
Ahhhh - here it is, a beautiful Saturday morning. After a week of rain, the sun is shining on the flaming shades of autumn that covers our surrounding mountains. It's stunning to see and looks so crisp and bright after all those days of wet, dreary weather.
The house here is quiet - with only the sound of the pc humming and the clicking of the keys. The children have gone with DH hunting for the day. The stillness is wonderful but won't last much longer. As soon as neighbor-child gets out of bed, the peace will be broken with the sound of his "music" that he plays at such a volume, that no matter how loud one turns things up in here, you can still hear the base rumblings. I'm keeping my fingers crossed that he had a very late night last night :-)
The first
Feather & Fan Sock
is finished. I had to redo the toe, as it was way too long and looked like it had been designed for an elf...
grin...
I went over and over the instructions to see if I made a mistake, but I couldn't find an error on my part. The only conclusion I have come up with is that even though my stitch gauge is on, the row gauge (which is not given in the directions) isn't. Instead of knitting 3 rows between decreases, I went down to 2 - and ended up with a much better looking sock that fit DD perfectly. I must cast the other one on and get busy so that I have them done, washed and ready to go for Halloween.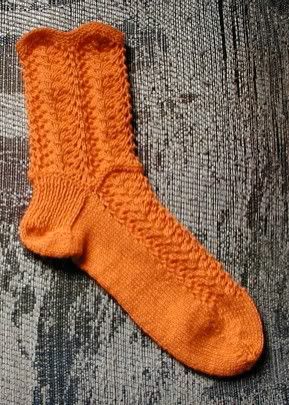 Without flash to see lace
The
Kool-aid dyed yarn
is finally dried and balled up. I started my socks with it yesterday, and am getting an interesting pattern on the cuff of the first sock. I'm using the yarn for the cuffs, heels and toes and the undyed for the body of the sock.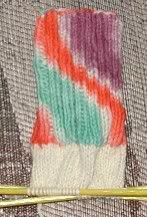 Hey - it's not that bad!
This morning, DS went to put his heavy socks from last year on, and they no longer fit! They did when we washed them and put them away this spring, however, he's grown like a weed, and I never gave it a second thought about outgrowning those that I made last year. So, now I need to do another pair for him. That makes 2 more pairs he needs done. I'll finish DD's first, and mine - as I need the needles mine are on to do DS's socks. Hmmmm... so who's bright idea was it to learn how to knit socks?! (
grin)