Another Iowa Cruise Sock
DH's sock is on the needles, and I'm almost ready to start the heel flap.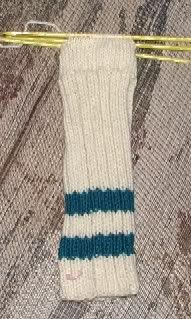 Surprisingly, DH loves the stripes and appears to be interested in what it will look like with the heel and toe done in the turquoise as well. Could it be that he is beginning to appreciate hand knitted socks afterall? This it the man that said he would NOT wear wool and after the last pair I made, he asked for more. Now, just to convert him to a lighter weight sock. I wonder if it could happen. :-)
The kids have already put "orders" in for more socks - thick, thin, inbetween.... it doesn't matter. They love them all! After DH's pair is finished, I'll work on an Opal sock and my Einstein Coat as well. Right now, I'm focusing on the heavy socks for hunting season. They go next month, so they are needed soonly.
I stopped at JoAnn's Fabric and picked up another skein of Lion Brand Fisherman's Wool. Whatever is left from DH's socks will be dyed and put away for my next pair of worsted weight socks. I'm looking forward to fooling around with the Kool-aid method, however, if it turns out well, one of the children may want yet another pair made with that yarn. LOL